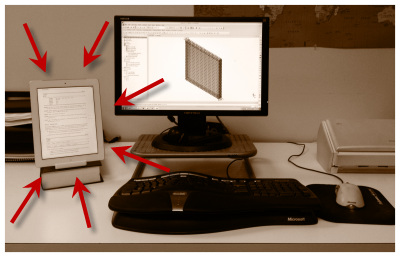 A few weeks ago I pulled the trigger on the new iPad (the 3rd generation). I have a lot to say that will surely span several posts. In this first one, I want to talk about why I went this route and my initial impressions.
Why get the iPad 3?
I was already planning to buy one when I graduate this summer/fall, and the iPad 3 will be the state of the art version in six months.
I have multiple national/international trips over the next several months, including conferences and job interviews.
I hate traveling with a laptop. (I have carried a 12-lb Dell laptop everywhere from Seoul to Dubai—laptops suck when traveling.)
The retina display will be great for reading research articles and as a handy peripheral to my simulation work on my work Windows 7 box.
I can actually present at conferences using it (two of my upcoming conferences require you present off your own "laptop").
It will be a helpful interview tool (notetaking, researching companies, profiling various people I am meeting with, etc.)
I bought it primarily as a work tool and have taken active steps to keep it professionally focused.
Why not buy the ideal machine for Facebook and Twitter right after shutting both down? (The hiatus is going wonderfully, btw.)
I have waited patiently for a long time.
There are other reasons, but I think you get the idea.
The experience of buying it
I pre-ordered the white, 16gb version with 4G wireless during launch week. The estimated delivery date was a month later, which seemed like forever, but whatever.
Then, on the morning of the launch day, I saw a post by Matt Mullenweg (founder of WordPress) who said he basically showed up at an Apple store that morning to find there was no line and plenty in stock. I immediately picked up the phone, called the Apple store at Lenox mall and got the same story: zero wait and every model in stock. This was around 11am.
Long story short, the round trip time from my desk at Georgia Tech to Lenox and back was 45 minutes. I walked right up to an associate, told them what I wanted, and in less than ten minutes was in the car driving back to my office. I cancelled the online order in a few clicks and was up and running immediately. I even got real work done that afternoon with it.
Initial impressions after two weeks
We live in the future. Way, way in the future.
The physical design is awesome. It's sleek and lightweight. It feels great. I understand it is heavier than the iPad 2, but I constantly can't believe what I am holding in my hand when using it.
The retina display is truly impressive. It's exactly the same experience as upgrading an iPhone 3 to an iPhone 4—you can't quite get over how sharp the presentation is.
Beyond a few inches from my face, pdf's look like laser print quality. Reading research papers and searching technical manuals is fast and easy on this device.
At my normal rate of use during a day, I can go three days without charging.
It has been a boost to my productivity due to several distinct advantages over my Mac as a peripheral for my Windows-only research workflows. I have a lot more to say on this point in particular, but that will have to be another post.
I spend much less time processing email. In fact, I don't think I logged into the Gmail web interface the first 7 days I was using the iPad, and I consistently kept my inbox below five messages by the end of each day. I have never been this effective with email.
I immediately tested the presentation capabilities using a pdf viewer and a previous LaTeX/Beamer conference talk using the VGA adapter. I will probably post a video demo of this at some point, because it immediately opened up several new ideas regarding presentation format, use of media, and interactivity. I had a stupid grin on my face by the end of this experiment.
Warning: your laptop/desktop monitor will start to look cheap, dated, and pixelated in comparison.
The Kindle is still a remarkably better experience for long-form reading, mainly because the iPad is so much heavier. The retina display does improve the reading experience remarkably over older iOS devices. [Sidenote: my wife likes her new Kindle 2!]
The app ecosystem is quite mature for a lot of my work use cases. Much more to write about on this topic in the future.
Facetime calls with my wife and daughter during the day are amazing. My daughter's face is almost full size. Again, this simple use case feels like something out of the way distant future.
Like everyone and their brother has said, the OmniFocus iPad app is incredible. This is a Getting Things Done -ish task management app.
All of my online reading is now streamlined through Flipboard and Instapaper, specifically my Google Reader feed and a small handful of Twitter feeds I couldn't bring myself to part with after shutting down my social media channels. I have never processed RSS so efficiently or made better decisions about what (or what not) to read.
There are more Dropbox-syncing, Markdown-enabled text editors than you can shake a stick at. I am using several of these simultaneously pointed at different folders of files, which has resulted in a surprisingly cool workflow. More on that later.
I have quit carrying my laptop to work with me. My bag is lightweight and mobile. I can set up and work in seconds.
I bought the version with the 4G radio, but have not activated this service yet as everywhere I frequent has capable wifi. I wanted this option in case I work somewhere in the future where I am denied wifi access or if I would rather not have that type of surveillance from my employer.
The experience continues to improve daily as more and more apps take advantage of the HD graphics.
The white color provides a nice visual complement if you are primarily reading white pdf documents, which I am.
It is not going to fully replace a desktop/laptop machine for most people. Certainly not for me.
Going forward
So those are some initial impressions. Specifically I hope to cover my experience as I investigate its use as a scientific peripheral: writing tool, research reading device, note-taking device, technical presentation console, and also for teaching.