I've been planning to write a post describing my remote work setup for several months, but now that a global pandemic is forcing most of the world to work from home, I thought perhaps a description of my setup might be helpful to others who are figuring this out for the first time.
I've spent a lot of time trying to dial in this setup over the last three years while working from home full-time. I figure since I spend thousands of hours per year using this setup, I should love it and try to get every aspect just right. It's always a work in progress, but I'm very happy with the decisions I've made for now.
My criteria were pretty simple:
Minimalist aesthetic that integrates cleanly with my living space
Seamless transition between sitting and standing
Flexibility to dial in the ergonomic aspect of every single component
Use the smallest desk that comfortably accommodates my computing setup alongside reference materials (books/papers)
Minimize desk surface area taken up by fixed objects (i.e. I sometimes like to spread out papers and books over the desk without being blocked by a monitor stand)
I'll start with some photos and then give a link and a few short comments on each item.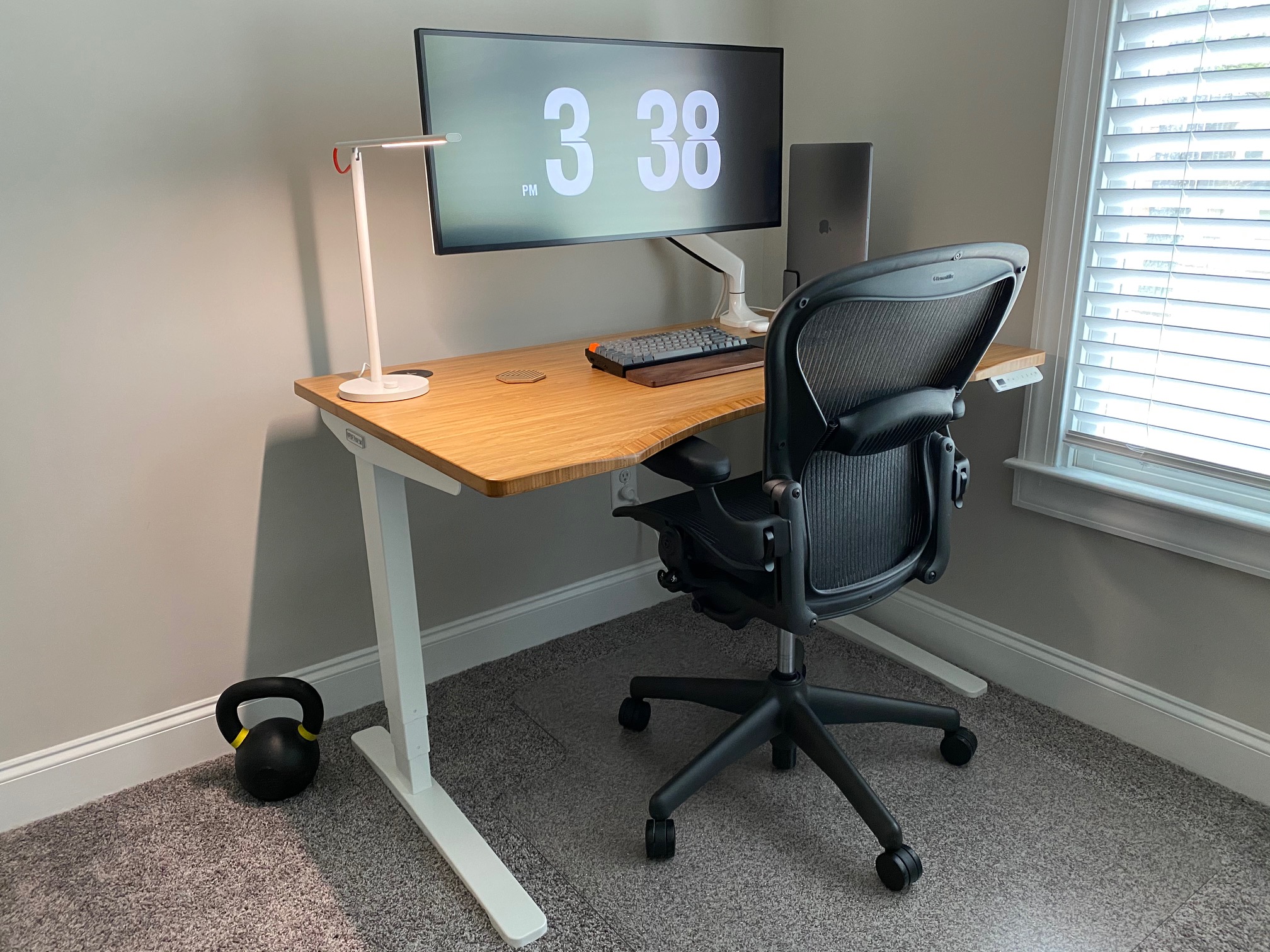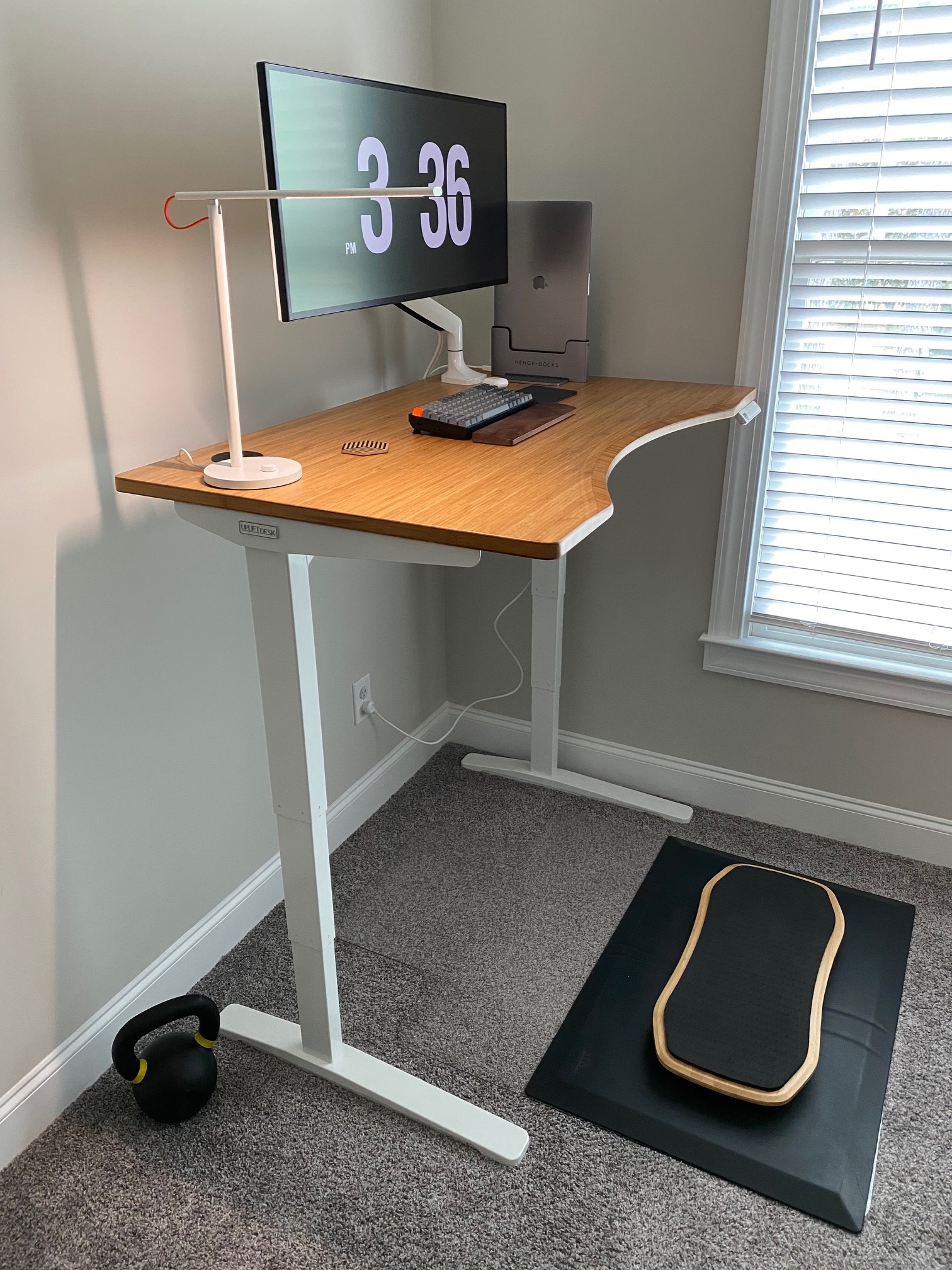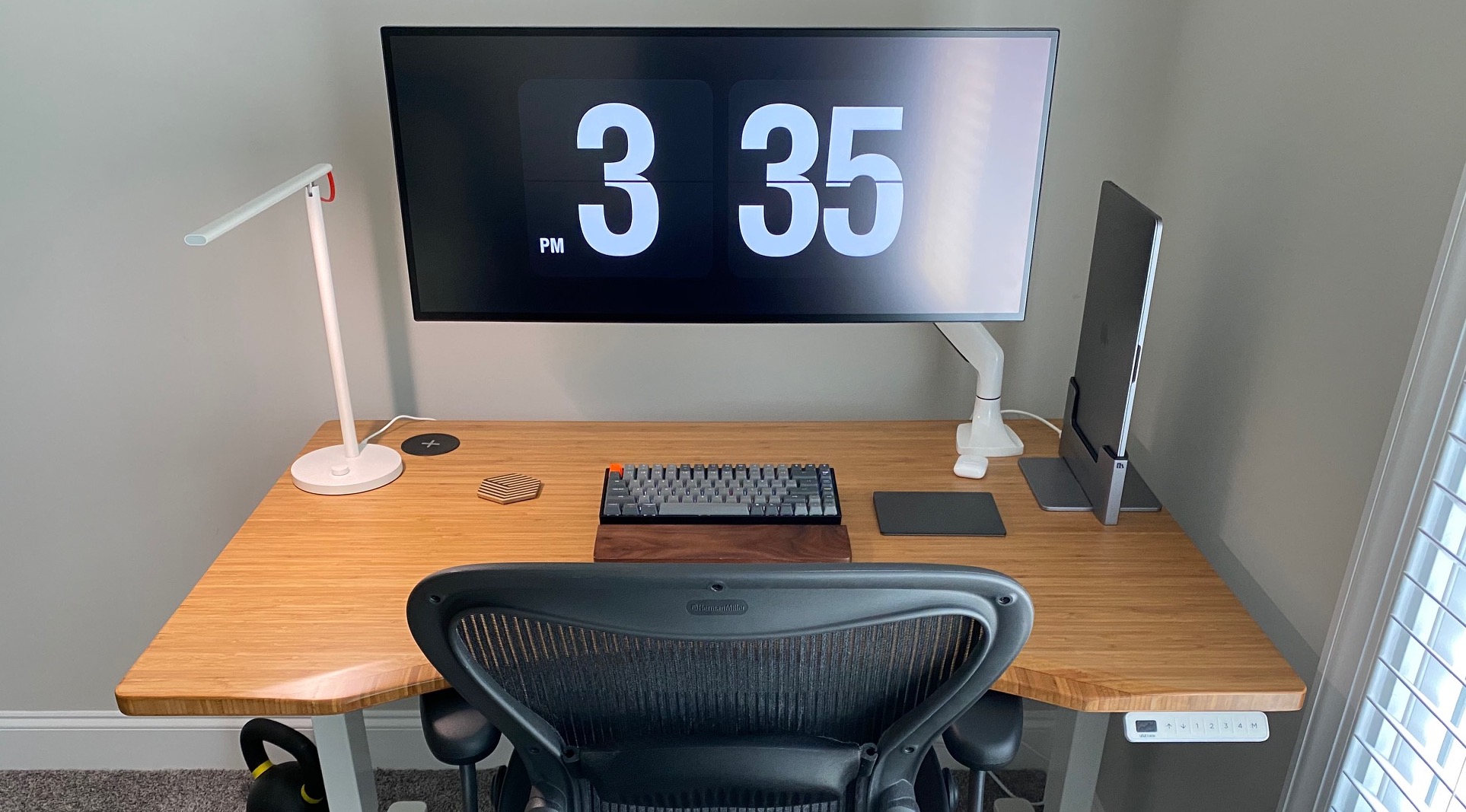 Furniture
Computing
Peripherals & Miscellanea
Xiaomi Mi LED lamp: This is a simple desk lamp that folds away, and is easily tunable for both brightness and warmth via a single knob/button. The white aesthetic blends perfectly with the desk and monitor arm hardware. Also provides some nice ambient light. It won design awards or something; I like how it looks. Discovered via Paul Stamatiou.

Bower for Areaware Table Tile Coaster: I bought a few sets of these geometric coasters at the MoMA Design Store in NYC several years ago.

IKEA Wireless charger in grommet: It doesn't look like this is available anymore at IKEA online (maybe in-store?), but several years ago I bought a set of wireless chargers at IKEA thinking they were standalone chargers. It turns out they were intended to be mounted in a grommet but I wasn't about to drill holes in our bedside tables, so they sat in a closet for a few years. After I bought the desk and realized there was an unused grommet, I remembered this charger. I use this to charge either my iPhone or AirPods. I will probably replace this with a white option at some point since the black kind of stands out.

Rogue Fitness 16kg Kettlebell: I keep a 35 lb kettlebell right next to my desk. Most days I do 15 sets of 10 swings sometime during my work day when I hit a slump. Having it next to my desk reminds me to use it. No special clothes or additional equipment required.

Bamboo Motion-X Wobble Board: Another small convenience that makes using a standing desk more sustainable and a little more fun. This shipped as a free add-on when I bought my Uplift desk.

Trond mountable power strip: I have this mounted on the underside of the desk near the back, right beside the cable management tray came with the desk. This has both standard power and USB sockets. Everything you see in the photos plugs into it; its white power cord is the only visible cable leaving the desk.

Bose QC25 Noise Cancelling Headphones: Not pictured, but primarily used on airplanes and when I need to get into a hacker fugue state.

Air plant: Not pictured because it died. :(
Disclaimer: Affiliate links throughout.